What is a polydiscopathia?
Intense back pains are often caused by polydiscopathia.
This condition represents a disruption in the function of spinal discs.
The pain that patients experience can be a result of inflammation or degenerative disc disease.
The incidence of polydiscopathia is constantly rising, and young people are increasingly affected by this condition.
Polydiscopathia, due to the damage of one or more spinal discs, lays the foundation for the development of many other diseases.
For this reason, it is essential to react promptly and seek professional help.
Fizionova Center has been successfully treating polydiscopathia for years, using the most advanced methods and equipment for physical therapy.
DISCOPATHIA AND RECOGNIZABLE SYMPTOMS
There is a possibility that you are suffering from polydiscopathia if you experience any of the mentioned symptoms.

Polydiscopathia can occur in different parts of the spinal column:
Lumbar polydiscopathia (lumbar polydiscopathia)
Cervical polydiscopathia (cervical polydiscopathia)
The main symptom is back pain, and the following symptoms of polydiscopathia often occur:
Upper back pain
Neck and back pain
Nighttime back pain
Tingling in the legs and back pain
Back pain between the shoulder blades
Back pain from standing
Lower back pain
Back pain when bending
Constant back pain
Back pain during movement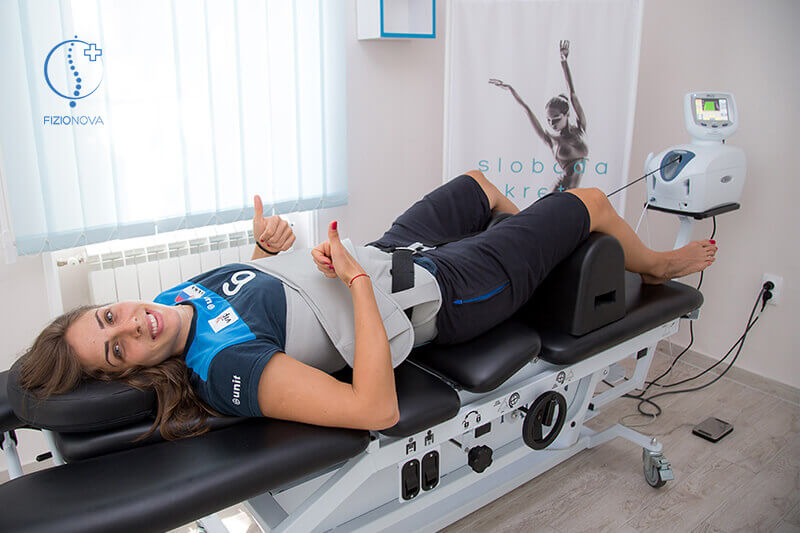 TREATMENT PROGRAM FOR POLYDISCOPATHIA
Consists of Three Treatment Phases
Before conducting any therapeutic procedure, it is necessary to undergo a specialist examination with a physiatrist in our spinal centre.
During the specialist examination, you will discuss your symptoms and complaints with Dr. Jelena Kluz Đurđević, a specialist in physical medicine and rehabilitation.
Based on relevant documentation and a physiatric examination, the extent of the damage will be determined, and an official diagnosis will be made.
After the examination, the doctor will propose the exact treatment protocol and agree with you on the commencement of therapy.
Our renowned Protocol 2 for treating cervical syndrome consists of the following 9 therapeutic procedures:
Spinal decompression Tritton DTS Chattanooga
Kinesiotherapy and RSQ1 electrostimulation therapy
Cold laser
Combined therapy with ultrasound and TENS technique
Hypobaric therapy
IMS intramuscular stimulation
Myofascial release (MFR)
Radial waves
Focused shockwaves (FSWT)
Our team of experts in our spinal centre will ensure that your health improves in the shortest time possible.
The therapeutic process at Fizionova doesn't end immediately after completing the treatment.
It is necessary to monitor the patient's condition in the next month to ensure that a satisfactory effect has been achieved.
Our team will be available to provide proper support and detailed instructions on preventive measures.
In addition, you will receive an exercise plan that you can perform independently at home to prevent the condition from recurring.
Our physiotherapist will explain the exercise process in detail for you to apply at home.
The first follow-up examination will be scheduled for one month after the completion of the therapeutic process.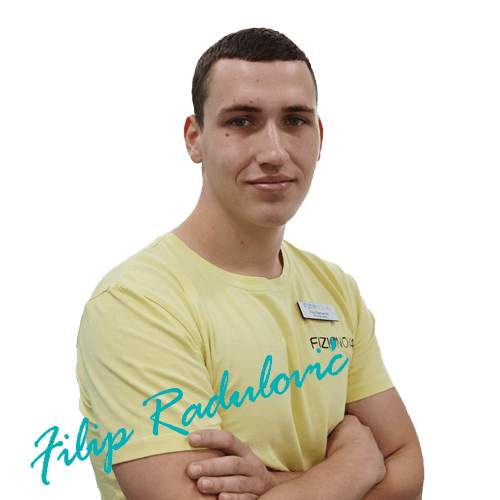 IMPLEMENTATION OF THERAPEUTIC PROCEDURES
Take a look below to see the innovative devices used to implement our treatment protocol and how the therapy process looks.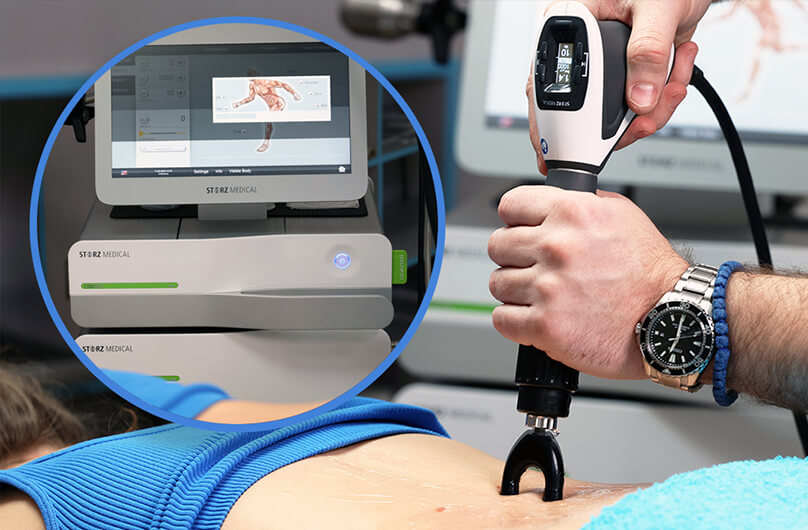 Tissue and Blood Vessel Recovery
Therapy 1: FSWT - Focused Shock Wave Therapy
Complete tissue and blood vessel regeneration might sound like magic, but it's actually possible with FSWT - Focused Shock Wave Therapy.
Through its implementation, the physical therapy process occurs twice as fast.
By using focused waves, tissue, blood vessels, tendons, and bones can undergo regeneration and complete recovery.
The primary advantage of focused therapy over standard shock wave therapy is the significantly faster recovery.
Focused Shock Wave Therapy achieves its effect by penetrating tissues up to 12 cm deep, while widely available shock wave therapy has a much lower tissue penetration power, reaching only 2.5 cm in depth.
That's why FSWT represents a revolution in the field of physical therapy.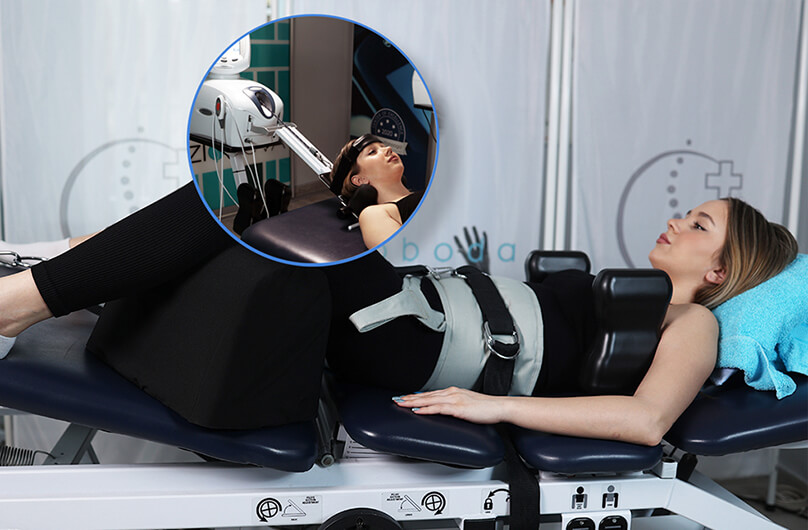 REDUCING NERVE INFLAMMATION
Therapy 2: Spinal Decompression - Chattanooga Traction Table
By using a technique called spinal traction, the effect of unloading the stressed discs and nerves is achieved. This process improves circulation, relaxes muscles, and calms down inflammatory processes.
The pressure exerted on the discs and nerves is often the cause of polydiscopathia.
The traction table represents a safe method for spinal traction, meaning stretching the spinal column.
Fizionova Center possesses the Triton DTS Chattanooga traction table, which is an innovative and clinically proven tool for treating polydiscopathia.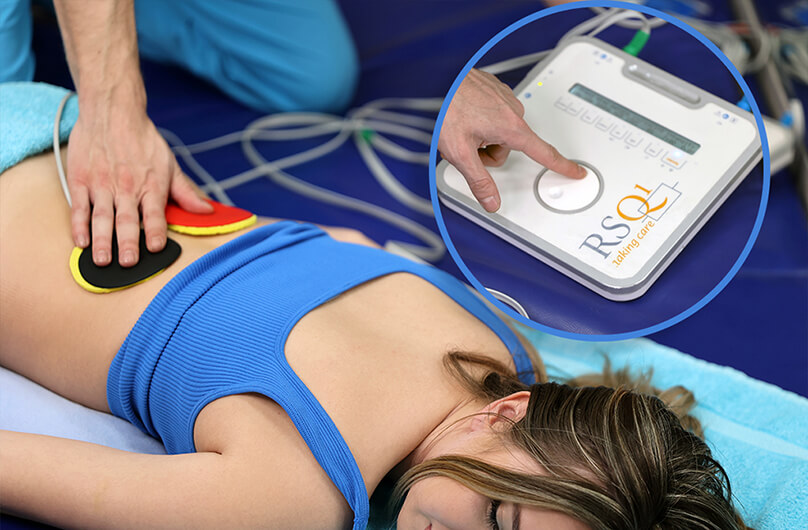 REDUCING ACUTE PAIN
Therapy 3: Kinesiotherapy + RSQ1 Electro-Stimulation Therapy
This renowned approach is based on the application of movement for therapeutic purposes. It consists of systematic exercises that effectively treat cervical syndrome.
Expertise is essential for conducting kinesiotherapy, and our team of physiotherapists consists of experienced professionals. They have been practicing physical therapy for many years.
Electrostimulation therapy can be additionally applied alongside kinesiotherapy when needed.
In our spinal center, we use the RSQ1 device with a high-frequency signal for electrostimulation.
RSQ1 stands out from other electrostimulation devices because it leads to almost instant improvements in circulation, saturation, and reduction of acute pain.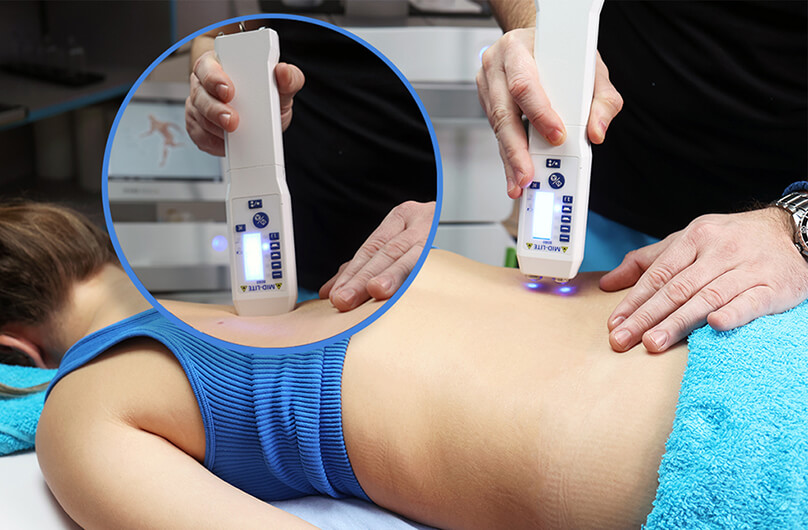 REDUCING ACUTE INFLAMMATION
Therapy 4: iRRADIA Cold Laser Therapy from a Renowned Swedish Brand
Cold laser therapy is used to treat conditions associated with acute and chronic pain, which are direct consequences of various inflammatory conditions in the spinal column.
Cold laser therapy is an integral part of our protocol for treating polydiscopathy, as well as many other spinal conditions.
The Irradia MID LITE 8080 device from the internationally renowned Irradia brand stands out for its quality in the medical equipment market.
The application of cold laser therapy is superficial, non-invasive, and entirely safe.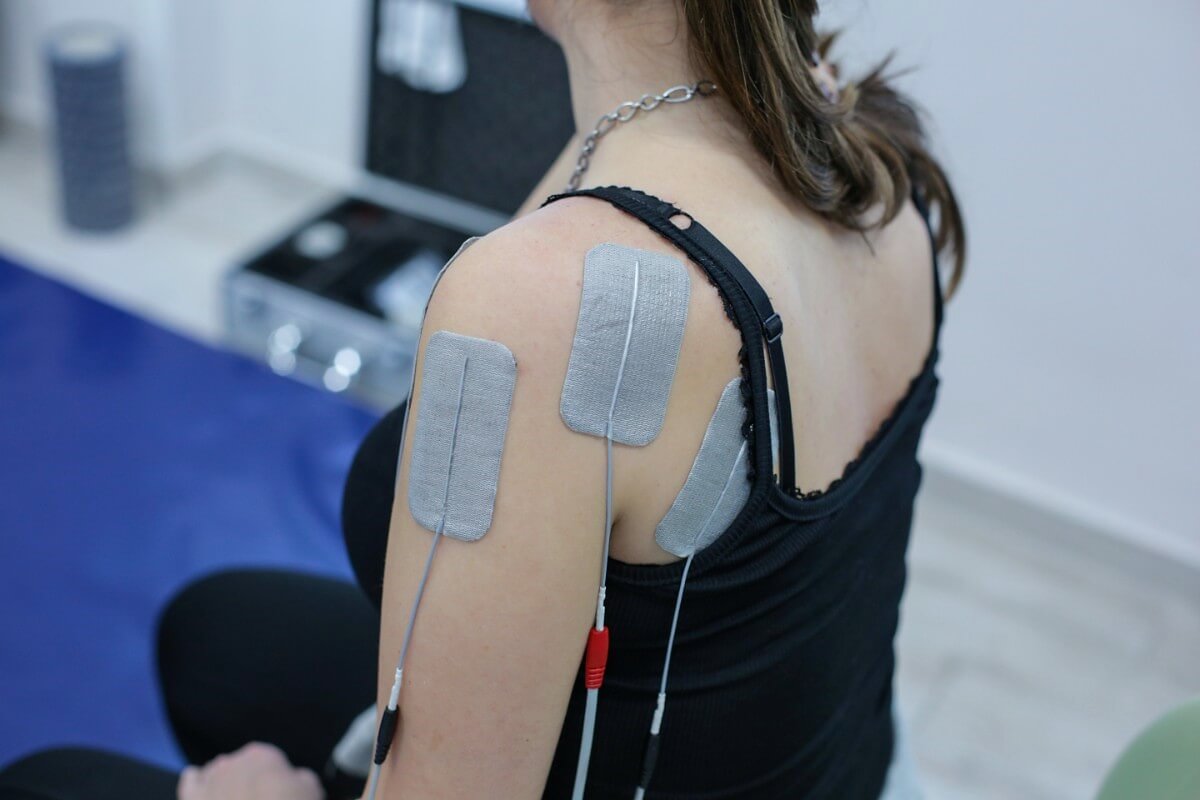 PAIN MANAGEMENT
Therapy 5: Combined Therapy of Ultrasound and TENS Technique
By combining ultrasound therapy and the TENS technique (transcutaneous electrical nerve stimulation), remarkable results are achieved in the treatment of polydiscopathy.
The TENS technique, when combined with ultrasound, alleviates pain and relaxes tissue.
The process itself is entirely painless: electrodes need to be applied to the painful areas, and then the frequency is adjusted between 2 and 200 Hz.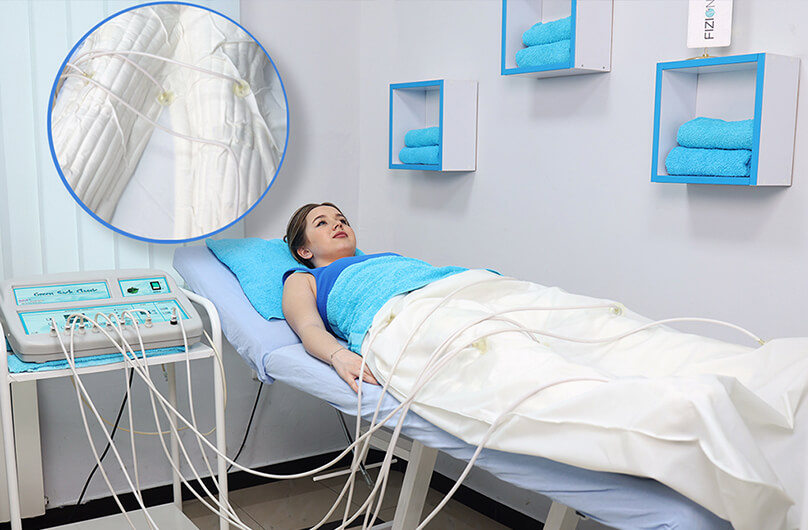 REDUCING SWELLING AND BOOSTING IMMUNITY
Therapy 6: Hypobaric Therapy
After intramuscular stimulation therapy, patients become more mobile, and the range of motion increases.
How is intramuscular stimulation performed?
This technique involves the use of acupuncture needles in combination with electrotherapy.
There is no need to fear pain, as acupuncture needles are extremely thin, and the insertion is almost imperceptible.
The application of electrostimulation serves as an additional stimulus for intramuscular stimulation.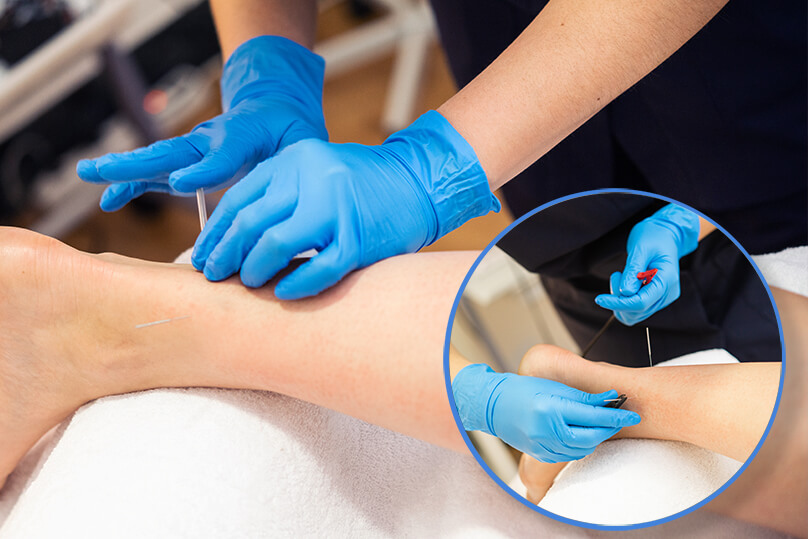 FOR GREATER RANGE OF MOTION
Therapy 7: IMS - Intramuscular Stimulation
After intramuscular stimulation therapy, the patient becomes more mobile, and the range of motion increases.
How is intramuscular stimulation performed?
This technique involves the use of acupuncture needles in combination with electrotherapy.
There is no need to fear pain, as acupuncture needles are extremely thin, and the insertion is almost imperceptible.
The application of electrostimulation serves as an additional stimulus for intramuscular stimulation.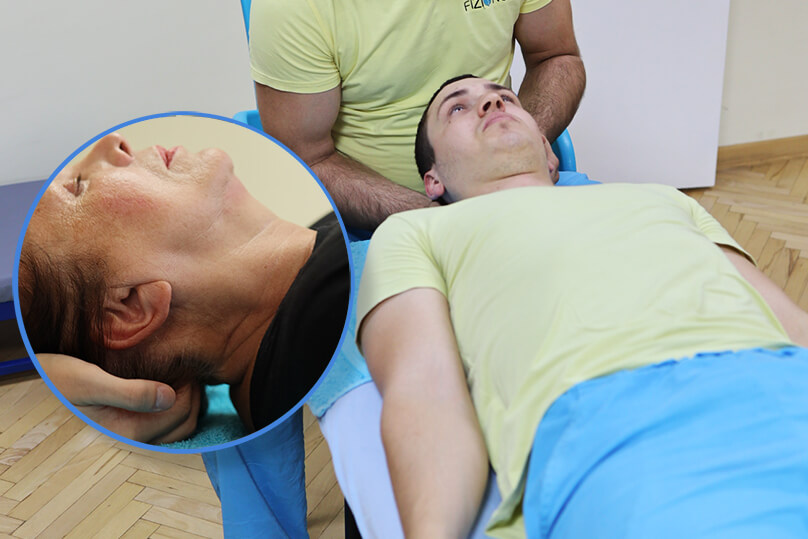 RESTORE MOBILITY
Therapy 8: MFR - Myofascial Release
MFR, or Myofascial Release, is a manual technique applied to fascia (connective tissues of organs).
Fascia can become tight and immobile due to specific inflammatory processes. Immobility of fascia results in limited range of motion and intense pain during movement.
MFR technique involves very gentle and careful movements, resembling a relaxing massage.
Myofascial release can be applied even when acute pain is present, as its effects are beneficial and soothing.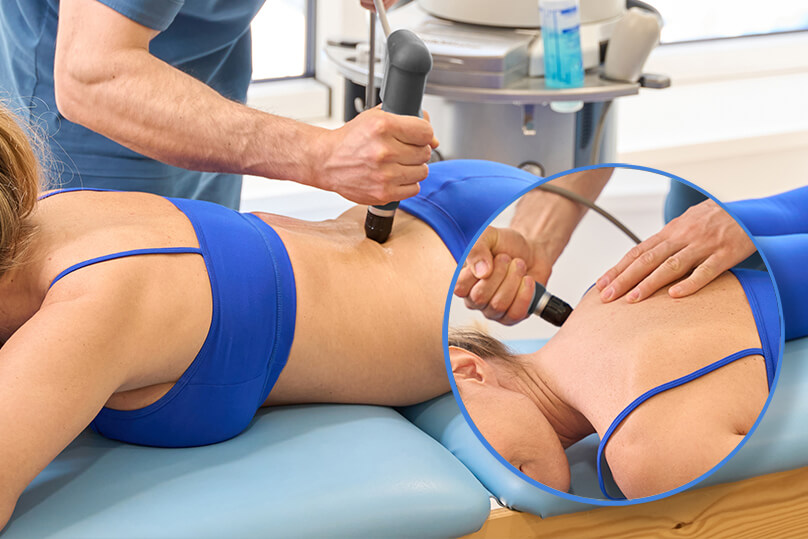 REDUCING PAIN IN 5 MINUTES
Therapy 9: Radial Shock Wave Therapy
After the first therapy session, the patient experiences a significant reduction in pain, and the process itself is brief, lasting between three and five minutes.
Radial Shock Wave Therapy is widely recognized under the name Shock Wave Therapy.
In the treated area, there is an improvement in microcirculation, and calcium deposits (calcifications) are reduced.
SCHEDULE A EXAMINATION
Solve Your Problem
For years, Fizionova has been successfully treating polydiscopathy and 79 other conditions.
We emphasize the use of cutting-edge technology for spinal disorders treatment.
Our expert team ensures that your overall experience at Fizionova is maximally comfortable and pleasant.
Fizionova Center features a modern, open space spanning 600m2.
Don't postpone solving the problem; schedule your consultation and get rid of the pain.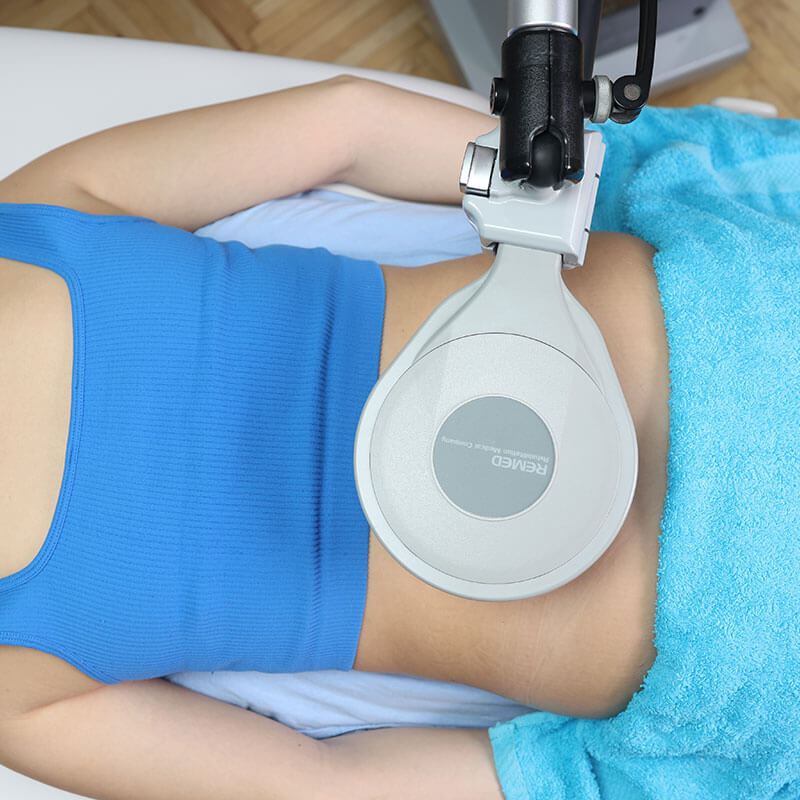 SCHEDULE A PHYSIATRIST'S EXAMINATION
Dr Jelena Kluz-Đurđević, a specialist in physical medicine
After a conversation with the patient, Dr. Jelena will conduct an examination to obtain a more comprehensive view of your health status, helping to determine whether it's an injury or a diagnosis.
The examination lasts for 30 minutes and includes:
Schedule a specialist examination by calling 011 2100 588 for the cost of 3,000 RSD.

You can also schedule an examination outside working hours or if you can't reach us by phone by filling out this online form:
Working hours
Monday - Friday

09:00 - 21:00

Saturday

09:00 - 15:00

Sunday

Closed