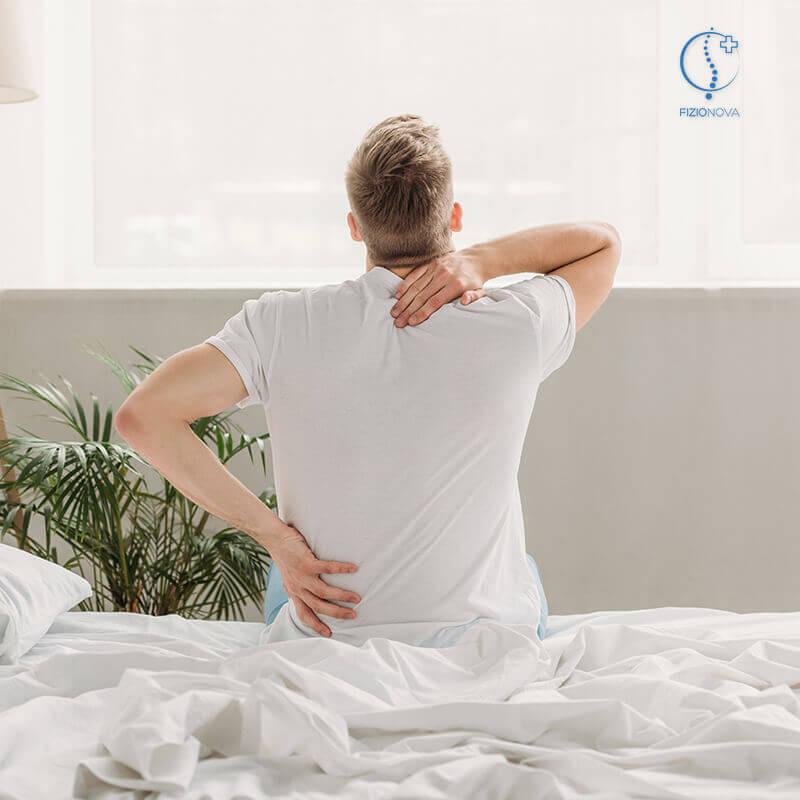 Has back pain become a problem you increasingly complain about?
Unfortunately, constant back pain is often caused by certain spinal conditions.
One of the most prevalent conditions is undoubtedly disc herniation, a modern-day ailment that is consistently on the rise.
Fizionova Center conducts treatment for disc herniation with an exceptionally high success rate.
The treatment program is based on innovative physical therapy methods and equipment, making the healing process twice as fast.
SYMPTOMS OF DISC HERNIATION
and how we treat it with FSWT therapy

Disc herniation can manifest as lumbar disc herniation or cervical syndrome.
These conditions are more commonly known in the general population as lumbar disc herniation and cervical disc herniation.
It's time to seek professional help if you experience the following symptoms:
Lower back pain
Neck pain
Tingling in the legs and back pain
Chronic back pain
Back pain when bending
Tingling in the arms
Stiffness in the neck
Ringing in the ears
Middle back pain
Shoulder pain
Upper back pain between the shoulder blades
Tingling in the arms and back pain
Muscle weakness
Ignoring these symptoms can lead to an uncomfortable situation as disc herniation has a progressive course.
However, Fizionova Center provides treatment at any stage of the disease, whether it is acute or chronic.
FSWT FOCUSED THERAPY, A REVOLUTION IN PHYSICAL THERAPY
FSWT focused therapy can rightfully be called a revolution in disc herniation treatment. It is equally suitable and successful in treating both lumbar and cervical syndromes.
The innovation of FSWT therapy lies in focused waves that penetrate up to 12 cm deep into tissue, completely regenerating blood vessels, tendons, bones, and other soft tissues.
In contrast, standard therapy with radial waves penetrates tissue only 2.5 cm deep.
FSWT focused therapy makes the entire physical therapy process twice as fast.
Before applying FSWT focused therapy, it is necessary to undergo a specialized examination by a physiatrist to determine the exact treatment program.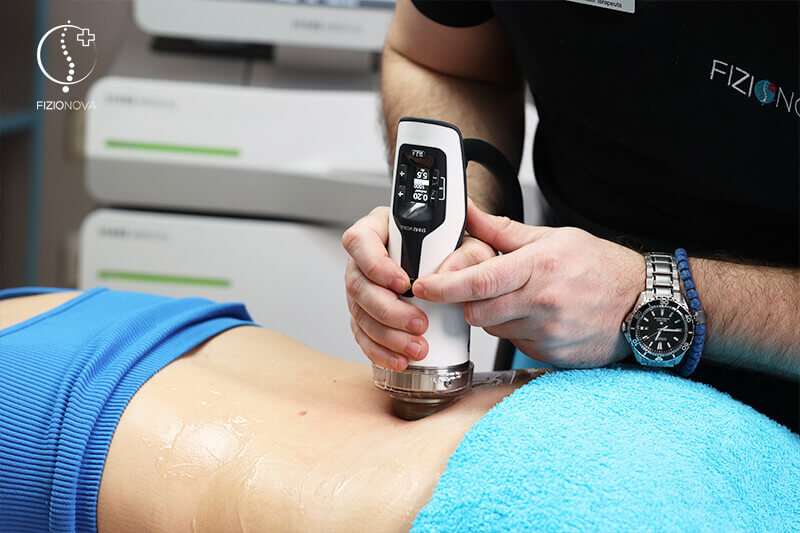 TREATMENT OF DISC HERNIATION
Involves Three Treatment Phases
Before conducting any therapeutic procedure, it is necessary to undergo a specialist examination with a physiatrist in our spinal centre.
During the specialist examination, you will discuss your symptoms and complaints with Dr. Jelena Kluz Đurđević, a specialist in physical medicine and rehabilitation.
Based on relevant documentation and a physiatric examination, the extent of the damage will be determined, and an official diagnosis will be made.
After the examination, the doctor will propose the exact treatment protocol and agree with you on the commencement of therapy.
Our renowned Protocol 2 for treating cervical syndrome consists of the following 9 therapeutic procedures:
Spinal decompression Tritton DTS Chattanooga
Kinesiotherapy and RSQ1 electrostimulation therapy
Cold laser
Combined therapy with ultrasound and TENS technique
Hypobaric therapy
IMS intramuscular stimulation
Myofascial release (MFR)
Radial waves
Focused shockwaves (FSWT)
Our team of experts in our spinal centre will ensure that your health improves in the shortest time possible.
The therapeutic process at Fizionova doesn't end immediately after completing the treatment.
It is necessary to monitor the patient's condition in the next month to ensure that a satisfactory effect has been achieved.
Our team will be available to provide proper support and detailed instructions on preventive measures.
In addition, you will receive an exercise plan that you can perform independently at home to prevent the condition from recurring.
Our physiotherapist will explain the exercise process in detail for you to apply at home.
The first follow-up examination will be scheduled for one month after the completion of the therapeutic process.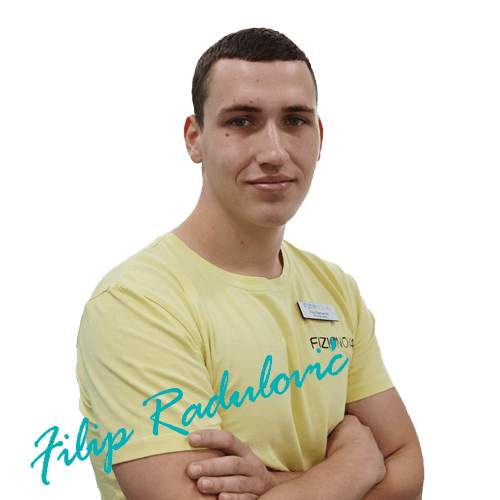 WHAT INNOVATIVE METHODS AND DEVICES DO WE USE IN TREATMENT?
In addition to expertise, innovation is the first association with Fizionova
We insist on continuous improvement of our spinal column disease treatment programs.
That's why we have created protocols that, through the application of innovative physiotherapeutic methods and devices, enable twice as fast healing and recovery.
Many patients have recognized a significant improvement in their health and a reduction in pain after just the first therapy.
Don't let back pain control your activities and prevent you from enjoying them.
It is essential to know that disc herniation is a spinal column disease that unfortunately has a progressive course.
By delaying treatment, you contribute to the worsening of your health condition, and the pain can become more intense and frequent.
Therefore, our recommendation is to seek professional help as soon as possible and continue living without back pain.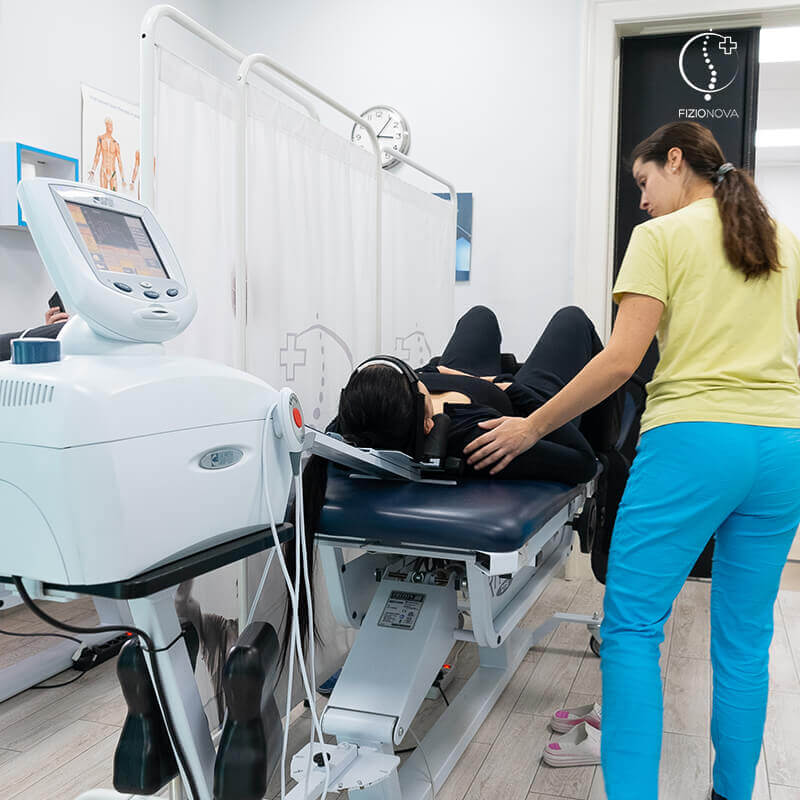 SCHEDULE A PHYSIATRIST'S EXAMINATION
Dr Jelena Kluz-Đurđević, a specialist in physical medicine
After a conversation with the patient, Dr. Jelena will conduct an examination to obtain a more comprehensive view of your health status, helping to determine whether it's an injury or a diagnosis.
The examination lasts for 30 minutes and includes:
Schedule a specialist examination by calling 011 2100 588 for the cost of 3,000 RSD.

You can also schedule an examination outside working hours or if you can't reach us by phone by filling out this online form:
Working hours
Monday - Friday

09:00 - 21:00

Saturday

09:00 - 15:00

Sunday

Closed