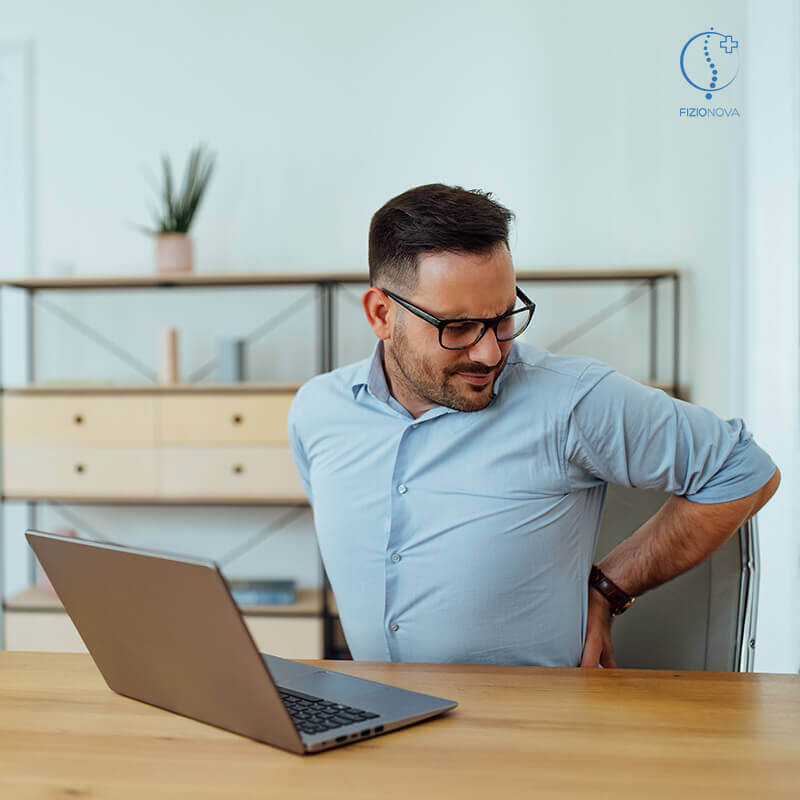 Back Pain Can Affect Your Quality of Life
Constant back pain significantly affects your quality of life and productivity at work.
People experiencing chronic back pain often avoid seeing a doctor because they fear that surgery might be the only solution.
However, the prognosis doesn't have to be so pessimistic. Fizionova offers a non-surgical treatment program for lumbar disc herniation.
Learn more about the treatment methods and technology we use at our spinal center.
SYMPTOMS OF LUMBAR DISC HERNIATION
If you have any of the following symptoms, you might be suffering from Lumbar disc hernation.

Disease caused by modern lifestyle.
Disc herniation can occur in the lower back region; or in the neck region - cervical syndrome.
It is increasingly common even among young people due to prolonged sitting and inactivity.
Symptoms of Lumbar disc herniation include:
Lower back pain
Tingling in the arms and back pain
Pain between the shoulder blades
Reduced mobility
Back pain during sleep
Back pain when moving
Back pain when bending
If you are experiencing any of these symptoms, there is a possibility that you might be suffering from disc herniation.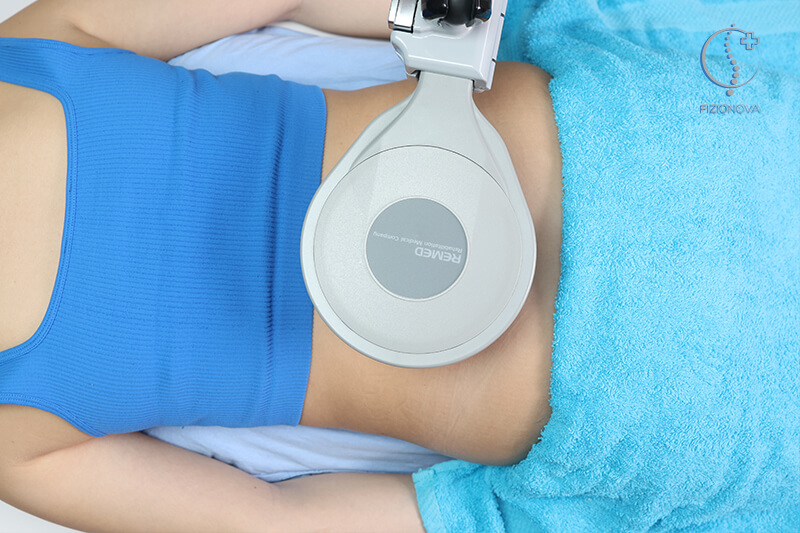 TREATMENT PROGRAM CONSISTS OF THREE PHASES
In addition to the application of modern methods, the treatment program also includes an adequate support system.
Before conducting any therapeutic procedure, it is necessary to undergo a specialist examination with a physiatrist in our spinal centre.
During the specialist examination, you will discuss your symptoms and complaints with Dr. Jelena Kluz Đurđević, a specialist in physical medicine and rehabilitation.
Based on relevant documentation and a physiatric examination, the extent of the damage will be determined, and an official diagnosis will be made.
After the examination, the doctor will propose the exact treatment protocol and agree with you on the commencement of therapy.
Our renowned Protocol 2 for treating cervical syndrome consists of the following 9 therapeutic procedures:
Spinal decompression Tritton DTS Chattanooga
Kinesiotherapy and RSQ1 electrostimulation therapy
Cold laser
Combined therapy with ultrasound and TENS technique
Hypobaric therapy
IMS intramuscular stimulation
Myofascial release (MFR)
Radial waves
Focused shockwaves (FSWT)
Our team of experts in our spinal centre will ensure that your health improves in the shortest time possible.
The therapeutic process at Fizionova doesn't end immediately after completing the treatment.
It is necessary to monitor the patient's condition in the next month to ensure that a satisfactory effect has been achieved.
Our team will be available to provide proper support and detailed instructions on preventive measures.
In addition, you will receive an exercise plan that you can perform independently at home to prevent the condition from recurring.
Our physiotherapist will explain the exercise process in detail for you to apply at home.
The first follow-up examination will be scheduled for one month after the completion of the therapeutic process.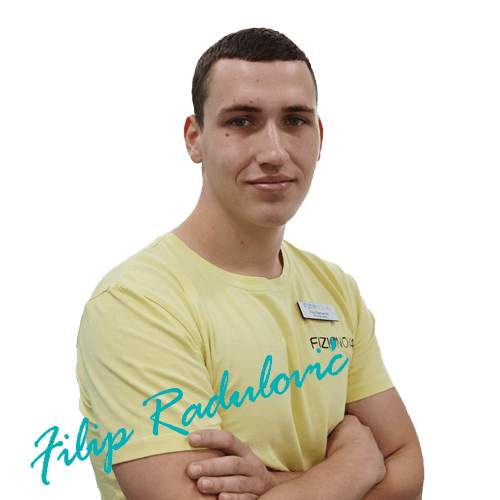 MODERN TREATMENT METHODS
The treatment is carried out through the implementation of our Therapy Protocol 4.
Protokol 4 se sprovodi primenom 7 inovativnih terapijskih metoda.
Protocol 4 is executed through the application of 7 innovative therapeutic methods.
Each therapeutic method involves manual techniques performed by physiotherapists as well as modern devices for physical medicine.
The number of required therapies to achieve recovery is determined by the extent of damage in the lumbar region.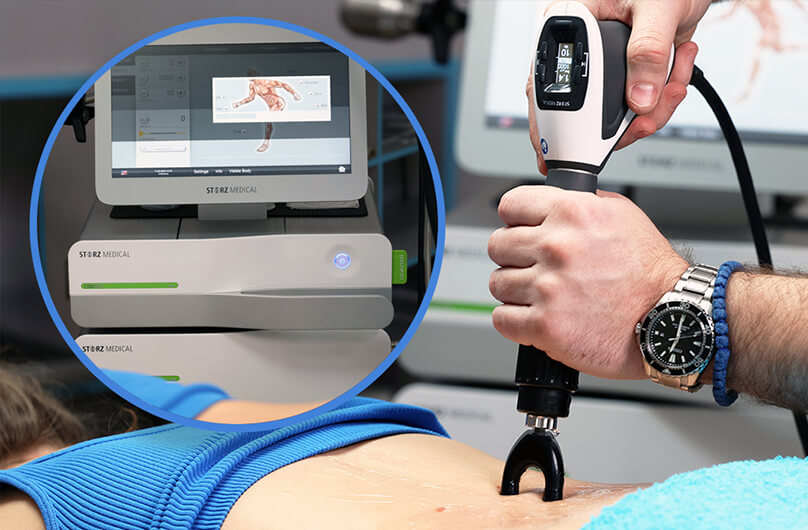 BRŽI OPORAVAK
Therapy 1: FSWT Therapy with Focused Shockwaves
The application of FSWT focused therapy achieves regeneration and complete recovery faster. This is it's main advantage compared to standard shockwave therapy.
The revolutionary technology of FSWT focused therapy allows waves to penetrate tissues up to 12 cm deep.
Standard shockwave therapy has significantly lower tissue penetration power, reaching only 2.5 cm in depth.
Most patients experience significant improvement after the first therapy session.
It's essential to note that FSWT therapy is applied only if recommended by a specialized doctor for the treatment of lumbar syndrome.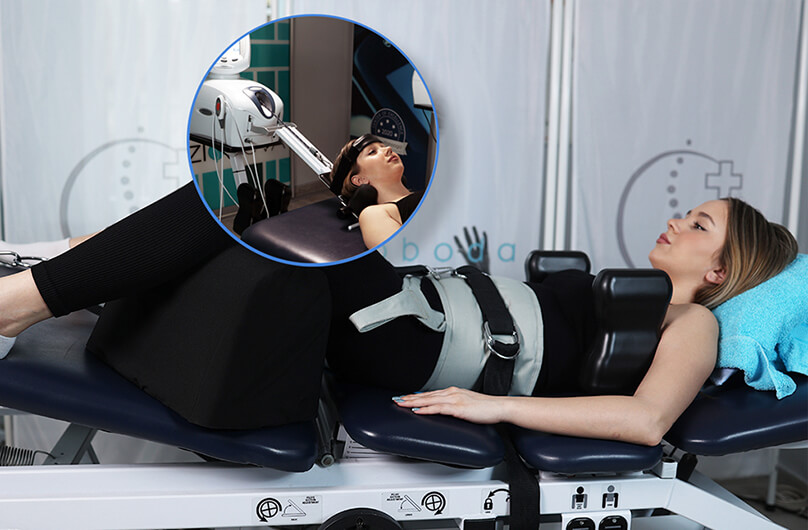 PAIN REDUCTION
Therapy 2: Spinal Decompression-Traction Table
The Triton Chattanooga traction table is the safest method for the therapeutic procedure of spine decompression.
This therapeutic method achieves spinal stretching, leading to the release of pressure on the discs.
Additional benefits include better blood circulation in the lumbar region, muscle relaxation, and reduction of inflammatory processes.
The Triton DTS Chattanooga table is a completely safe and reliable, clinically proven method for treatment.
Patients feel comfortable during the therapy, as the procedure is individually tailored to each patient and their health condition.
IMPROVED CIRCULATION
Therapy 3: Kinesitherapy and RSQ1 Electrostimulation Therapy
Physical therapy involving movement is the renowned kinesiotherapy.
This therapeutic method employs systematic exercises that effectively treat cervical syndrome.
Kinesiotherapy is a completely safe technique, but it is essential to perform it under the instructions of a professional.
Electrical stimulation therapy can be additionally administered as needed in conjunction with kinesiotherapy.
We utilize the RSQ1 device for neuromuscular stimulation with a high-frequency signal.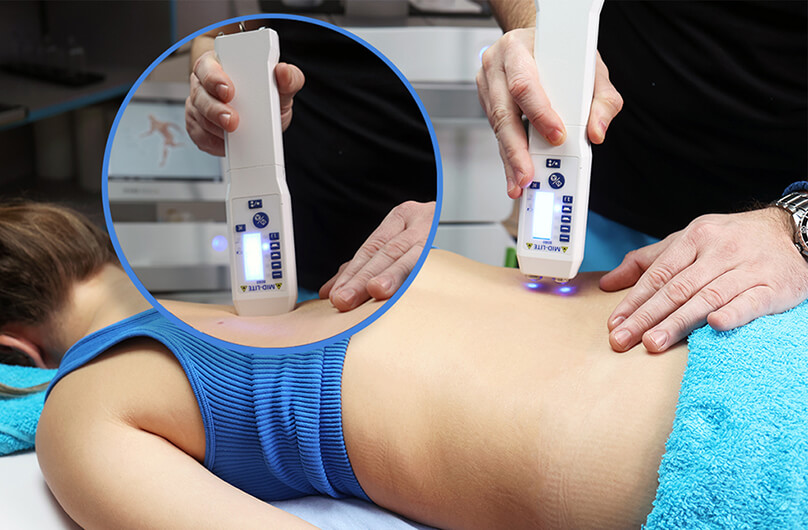 REDUCTION OF SWELLING
Therapy 4: iRRADIA Cold Laser for Physical Therapy
Fizionova Center is equipped with the MID LITE 8080 device for physical therapy with cold laser.
We have chosen the cold laser technology from the renowned Swedish brand Irradia.
The Irradia brand from Sweden is known for the quality of its medical equipment in the market.
The application of this therapeutic method helps alleviate acute or chronic pain caused by inflammatory processes.
Cold laser therapy is entirely safe and is applied exclusively on the surface of the skin.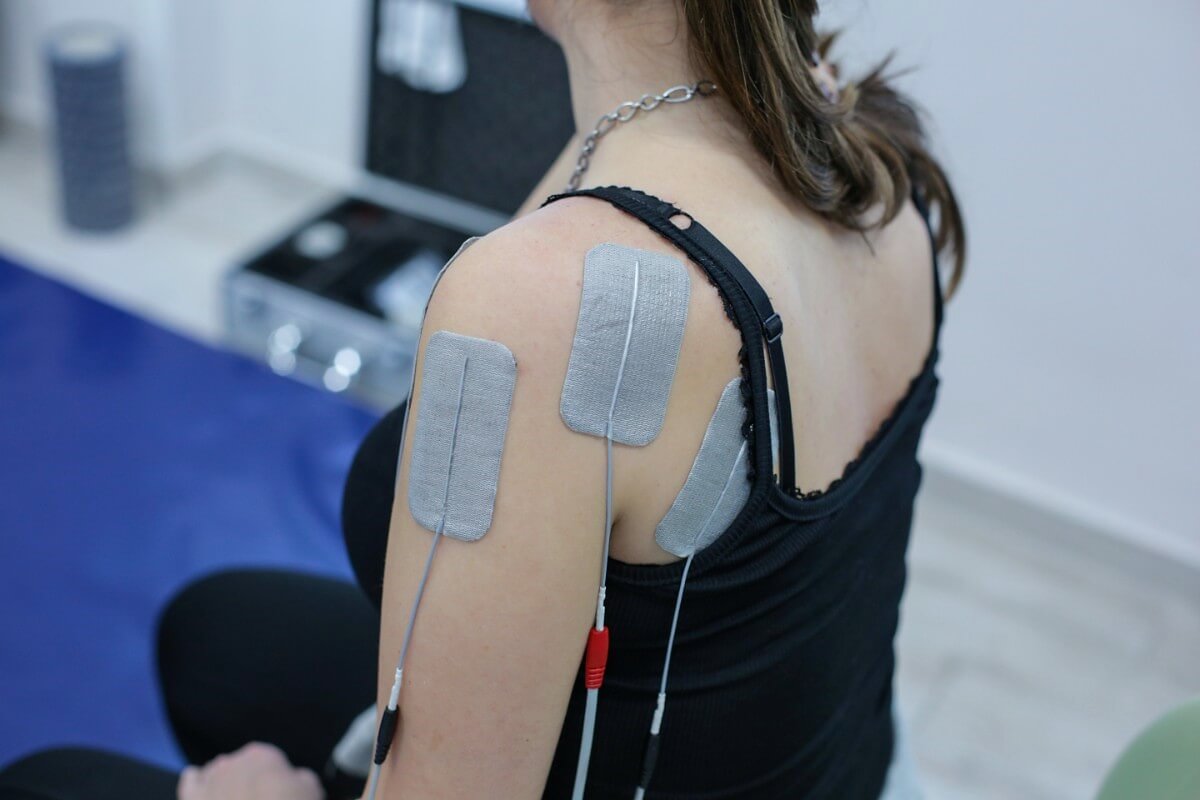 CHRONIC PAIN REDUCTION
Therapy 5: Combined Therapy of Ultrasound and TENS Techniques
Combined therapy involves a combination of ultrasound therapy and the TENS technique (transcutaneous electrical nerve stimulation).
The application of the TENS technique achieves pain relief in both acute and chronic phases.
The TENS technique creates a soothing effect by stimulating nerve endings with frequencies between 2 and 200 Hz.
The entire process of combined therapy is entirely painless, with no possible side effects.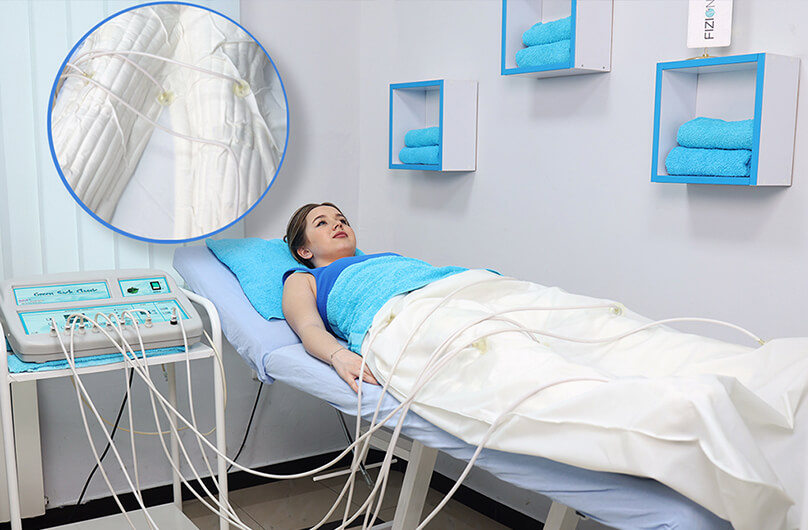 STRENGTHENING THE IMMUNE SYSTEM
Therapy 6: Hypobaric Therapy
Hypobaric therapy is conducted by applying low-pressure vacuum to the painful region.
The beneficial effect is achieved through pulsating changes that improve blood circulation in the lumbar region.
Additional benefits of hypobaric therapy include strengthening the immune system, speeding up metabolism, regulating blood pressure, and eliminating toxins.
After the therapy, swelling subsides, and the intensity of pain rapidly decreases.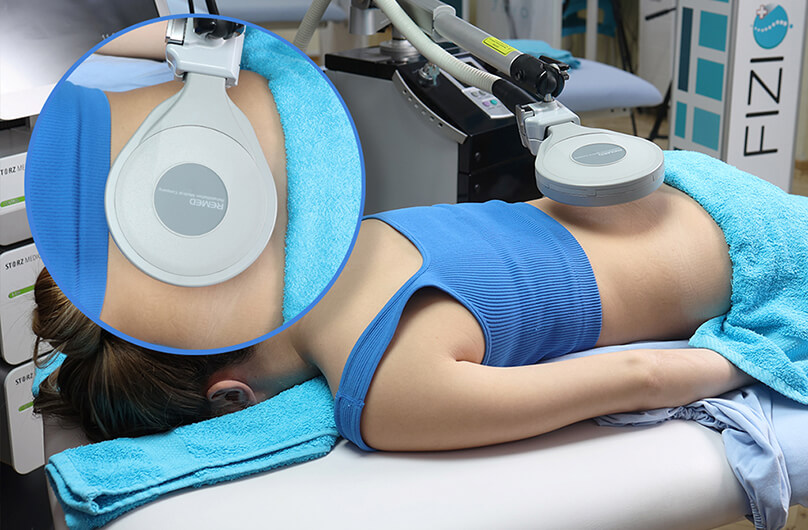 BETTER BODY RESISTANCE
Therapy 7: Salus Talent High-Frequency Magnet
By using magnetic stimulation with the Salus Talent device, deeper layers of nerves are stimulated with a magnetic field that penetrates tissues and bones, activating all body structures.
During the therapy, the production of endorphins is stimulated, and pain is reduced. Patients often experience significant improvement during the therapy process, even after the first session.
The immune system and the body's defense capabilities are enhanced through the production of lymphocytes and collagen, which are released during the therapeutic process
SAVE TIME, REDUCE THE PAIN
Innovative Methods for Better Results
The application of innovative methods makes the treatment of lumbar syndrome at Fizionova twice as fast and efficient.
The quality and effectiveness of our services are best reflected in the satisfaction of 10,000 patients who have placed their trust in us.
Numerous well-known personalities and successful athletes have overcome disc herniation precisely at our cervical center.
When you come to Fizionova, you will feel that you are in capable hands.
Don't let back pain deprive you of happiness; schedule your appointment as soon as possible.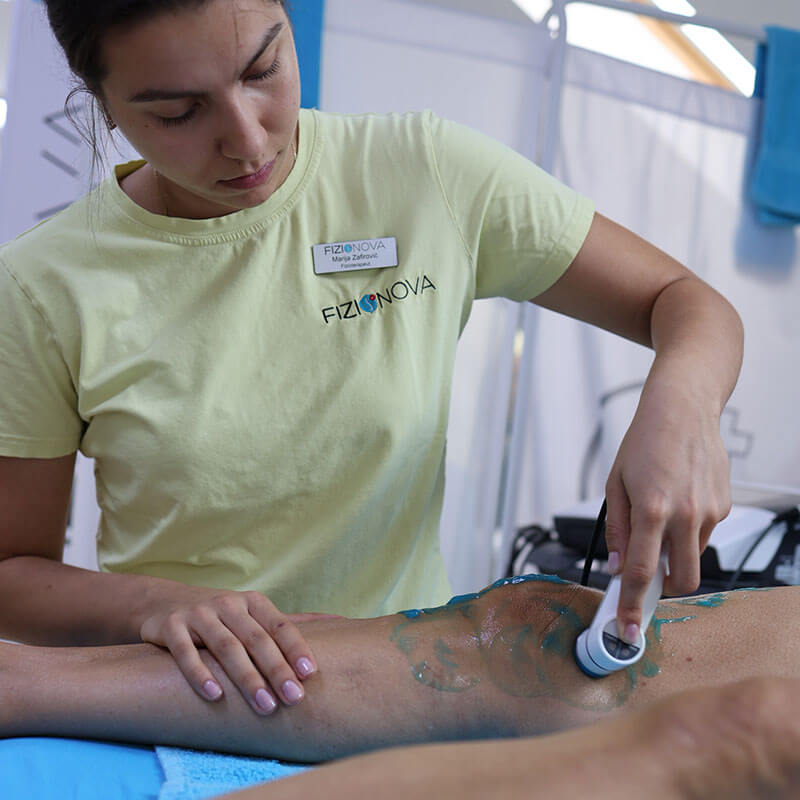 SCHEDULE A PHYSIATRIST'S EXAMINATION
Dr Jelena Kluz-Đurđević, a specialist in physical medicine
After a conversation with the patient, Dr. Jelena will conduct an examination to obtain a more comprehensive view of your health status, helping to determine whether it's an injury or a diagnosis.
The examination lasts for 30 minutes and includes:
Schedule a specialist examination by calling 011 2100 588 for the cost of 3,000 RSD.

You can also schedule an examination outside working hours or if you can't reach us by phone by filling out this online form:
Working hours
Monday - Friday

09:00 - 21:00

Saturday

09:00 - 15:00

Sunday

Closed