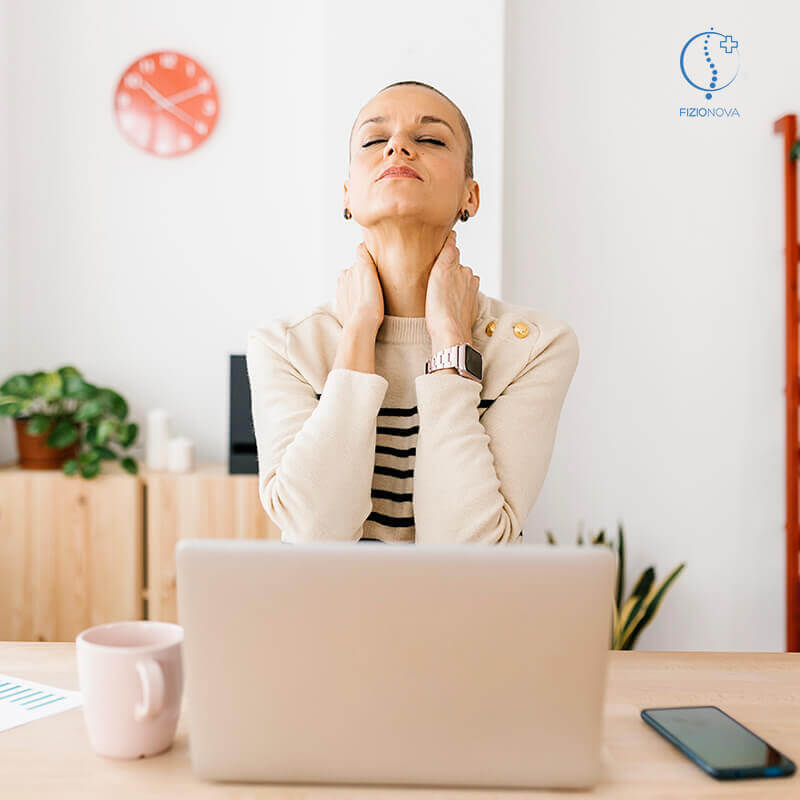 Does chronic neck pain significantly affect your quality of life?
If you experience daily neck and shoulder pain, headaches, and pain in the nape of your neck, there's a possibility that you may be suffering from cervical syndrome or cervical disc herniation.
The good news is that surgery is not the only solution for treating disc herniation.
Fizionova Center successfully provides treatment for cervical syndrome using state-of-the-art therapeutic methods.
By utilizing innovative devices, the entire physical therapy process is shorter, saving patients time.
SYMPTOMS OF CERVICAL DISC HERNIATION
If you experience any of the symptoms mentioned below, you might be suffering from Cervical Syndrome.

The solution is not always exclusively a surgical procedure.
At Fizionova Center, we apply non-invasive therapeutic procedures that yield fantastic results
With the help of our Protocol 2, which consists of 9 therapeutic procedures, you can alleviate neck pain in just a few sessions.
Do you truly have cervical syndrome?
Cervical syndrome is treatable, but first, it's crucial to determine whether you indeed have this condition.
Cervical disc herniation is a condition in which the disc shifts from its position in the intervertebral space.
The condition has a progressive nature, which is why it's essential to schedule an examination in our centre as soon as possible.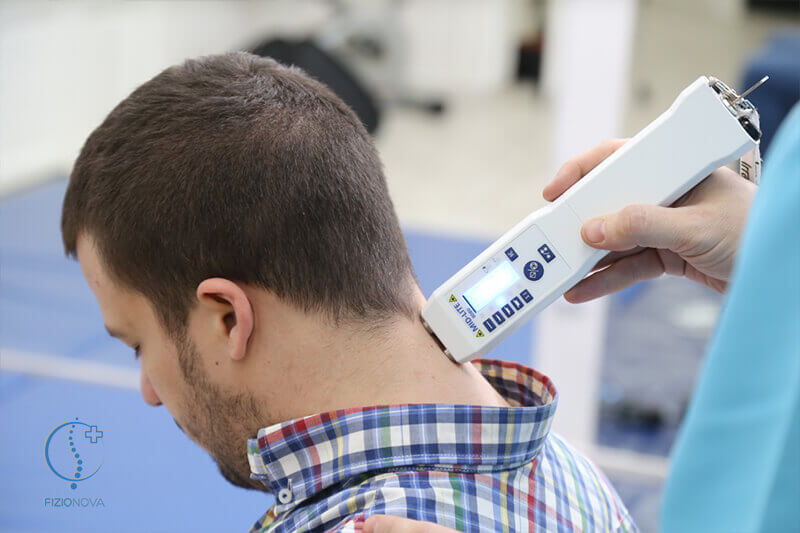 Recognizable symptoms of cervical disc herniation
Cervical Disc Herniation can rightfully be called a modern human ailment.
Sitting at work for hours on end and having your neck bent while looking at a mobile phone are causing an increase in the number of people suffering from cervical syndrome.
Symptoms of cervical syndrome manifest through the following complaints:
Neck and shoulder pain
Pain in the nape of the neck that radiates to the crown of the head
Numbness in the arms
Neck stiffness
Ringing in the ears
Headache
Left-sided neck pain
Neck and head pain
Neck pain when moving
Dizziness
Pain can be acute, with intense discomfort when in the acute phase, or chronic when present for more than three weeks continuously. Pain is often present at night, disrupting sleep quality.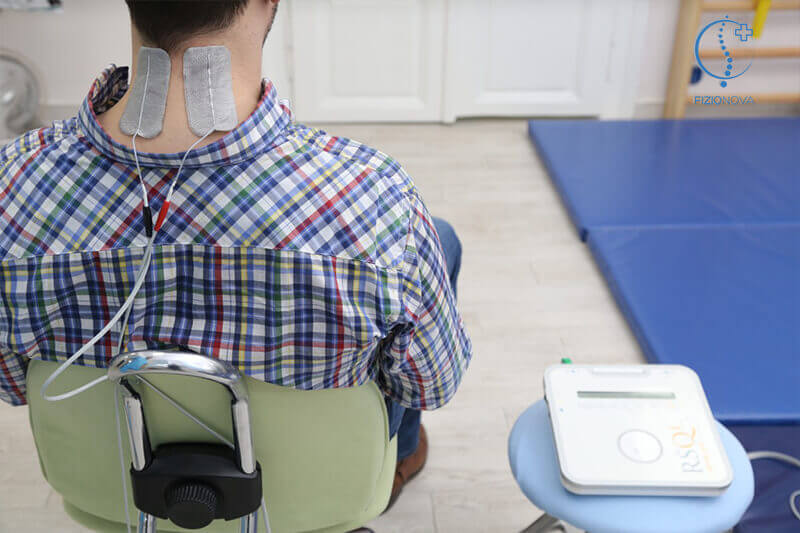 CERVICAL SYNDROME TREATMENT PROGRAM
Consists of Three Treatment Phases
Before conducting any therapeutic procedure, it is necessary to undergo a specialist examination with a physiatrist in our spinal centre.
During the specialist examination, you will discuss your symptoms and complaints with Dr. Jelena Kluz Đurđević, a specialist in physical medicine and rehabilitation.
Based on relevant documentation and a physiatric examination, the extent of the damage will be determined, and an official diagnosis will be made.
After the examination, the doctor will propose the exact treatment protocol and agree with you on the commencement of therapy.
Our renowned Protocol 2 for treating cervical syndrome consists of the following 9 therapeutic procedures:
Spinal decompression Tritton DTS Chattanooga
Kinesiotherapy and RSQ1 electrostimulation therapy
Cold laser
Combined therapy with ultrasound and TENS technique
Hypobaric therapy
IMS intramuscular stimulation
Myofascial release (MFR)
Radial waves
Focused shockwaves (FSWT)
Our team of experts in our spinal centre will ensure that your health improves in the shortest time possible.
The therapeutic process at Fizionova doesn't end immediately after completing the treatment.
It is necessary to monitor the patient's condition in the next month to ensure that a satisfactory effect has been achieved.
Our team will be available to provide proper support and detailed instructions on preventive measures.
In addition, you will receive an exercise plan that you can perform independently at home to prevent the condition from recurring.
Our physiotherapist will explain the exercise process in detail for you to apply at home.
The first follow-up examination will be scheduled for one month after the completion of the therapeutic process.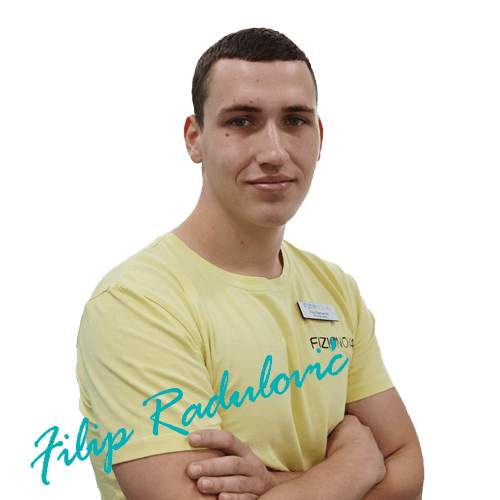 PLANNED SERIES OF 9 THERAPEUTIC PROCEDURES
Below, you will learn about the innovative devices used in our treatment protocol and how the process of 9 therapeutic procedures works.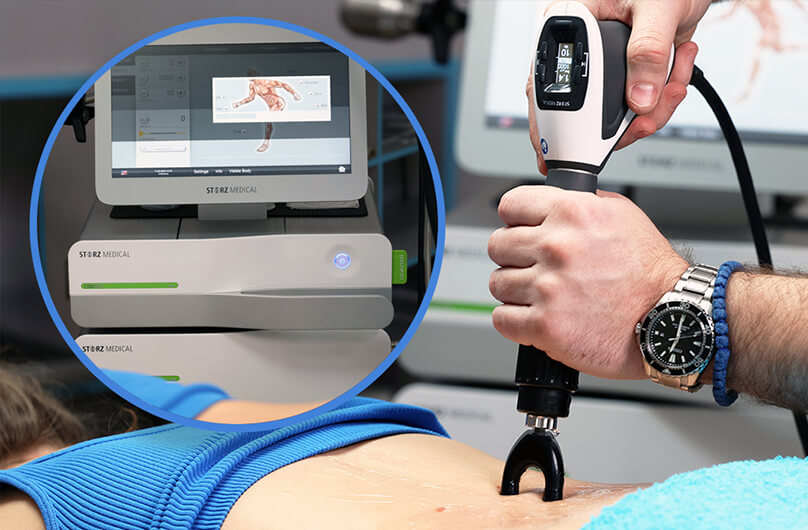 REGENERATION
Therapy 1: Focused Shockwave Therapy (FSWT)
The main benefit of revolutionary FSWT-focused shockwave therapy is rapid pain reduction and stimulation of twice as fast tissue regeneration and recovery compared to standard shockwave therapy.
FSWT therapy works by penetrating focused shockwaves that regenerate damaged blood vessels, bones, tendons, and other soft tissues.
In other words, the body regenerates itself through the application of this method.
Its innovation lies in focused shockwaves with the ability to penetrate up to 12 cm deep into the tissue, in contrast to standard radial shockwave therapy that penetrates only 2.5 cm.
Most patients experience significant pain reduction after the first therapy using this innovative treatment method.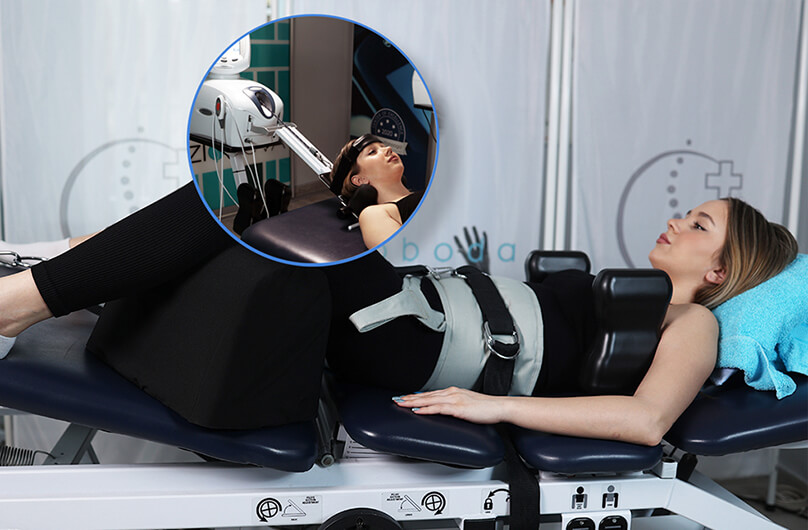 PAIN REDUCTION
Therapy 2: Spinal Decompression - Chattanooga Traction Table
Furthermore, it improves circulation, relaxes muscles, and has anti-inflammatory effects.
The Chattanooga Traction Table in our spinal centre is an innovative and clinically proven means of treating cervical syndrome.
Our patients have noticed significant pain reduction and relief after just a few sessions.
The treatment is individually tailored to each patient, which is of great importance.
The speed and length of the traction phases are adapted to your needs, ensuring your comfort throughout the entire treatment.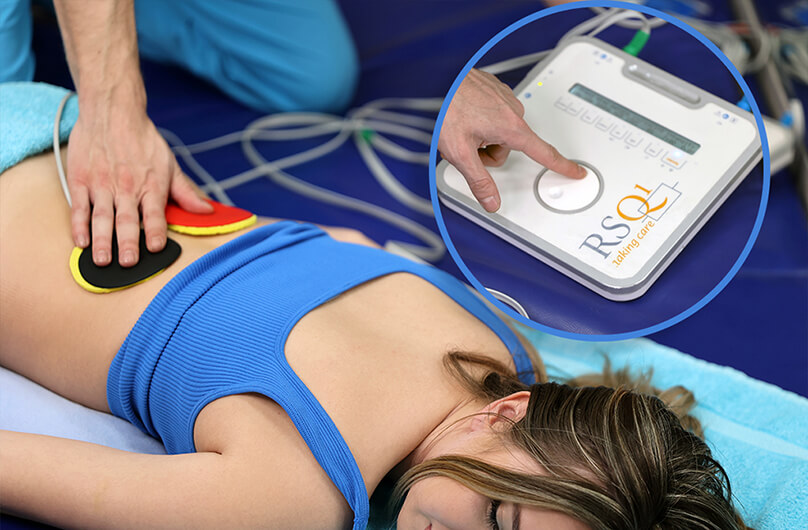 IMPROVED CIRCULATION
Therapy 3: Kinesiotherapy and RSQ1 Electro-stimulation Therapy
These are systematic exercises and sports activities that establish and develop the function of body parts or the entire body.
Kinesiotherapy actively treats cervical syndrome and prevents potential complications.
Kinesiotherapy is an officially recognized and proven method of medical rehabilitation based on science, primarily anatomy, physiology, and biomechanics.
Expertise is a prerequisite for the successful and safe implementation of kinesiotherapy. Our expert team has vast experience and will adjust the entire therapy and its intensity to your current condition.
The physiotherapist may recommend additional electrostimulation therapy.
At our spinal centre, this therapy is conducted with the RSQ1 device for neuromuscular stimulation with a high-frequency signal.
RSQ1 stands out from other electrostimulation devices because it almost instantly improves circulation, and saturation, and reduces acute pain.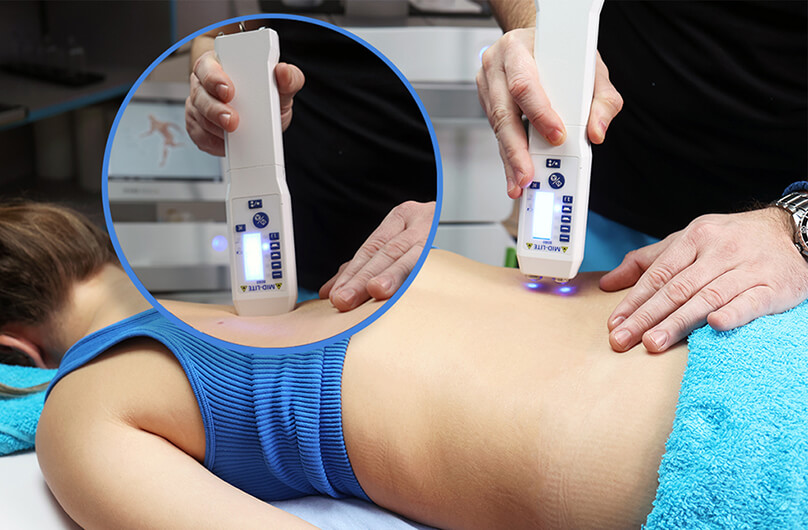 COLD LASER
Therapy 4: Irradia Cold Laser from a renowned Swedish brand
Their company is an internationally recognized brand known for its quality in the medical equipment and device market.
The Irradia MID LITE 8080 device is a professional medical cold laser used to treat acute or chronic pain due to inflammatory processes.
There are common misconceptions about laser therapy that make many people hesitant to try this form of treatment.
Patients often have concerns because they think the treatment is dangerous or painful. However, there is no reason to worry.
The application of cold laser therapy is entirely safe, non-invasive, and is applied only to the skin's surface.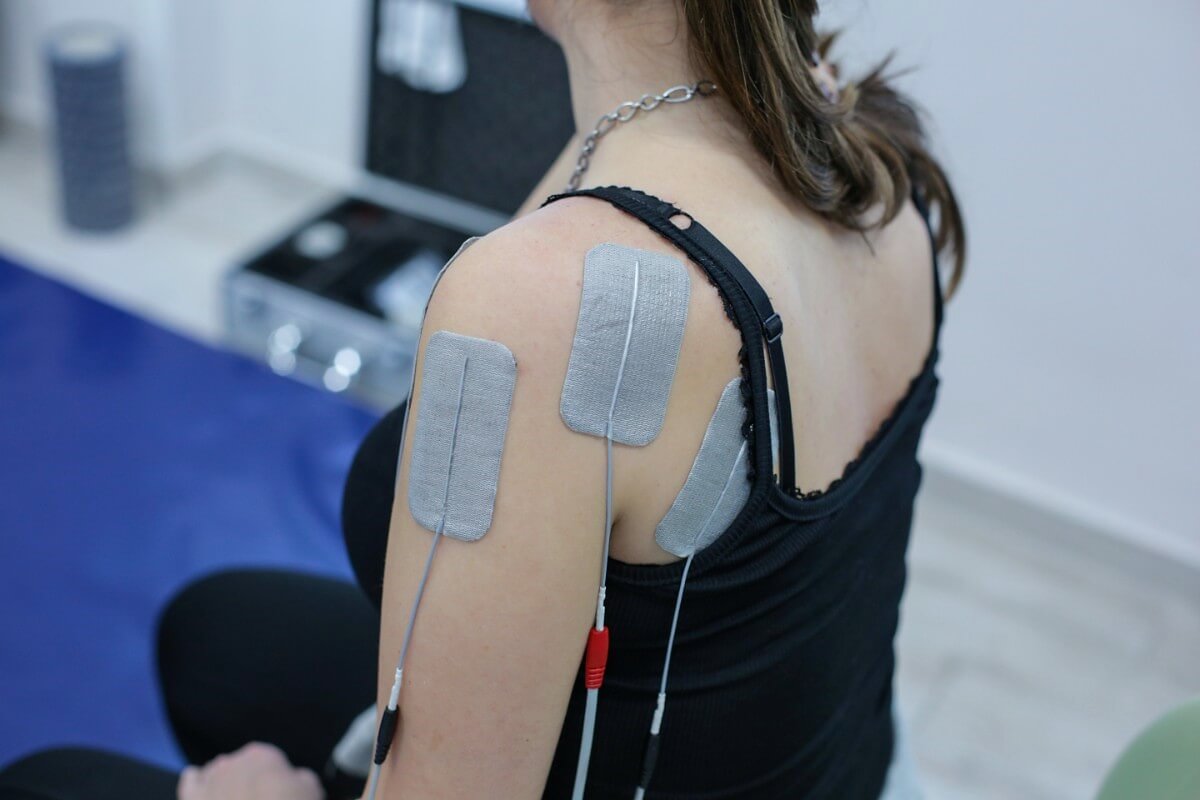 REDUCING SWELLING AND PAIN
Therapy 5: Combined Therapy with Ultrasound and TENS Technique
This type of therapy involves a combination of ultrasound therapy and the TENS technique (transcutaneous electrical nerve stimulation).
The TENS technique alleviates existing pain by stimulating nerve endings.
It is applied by placing electrodes on painful areas, and the frequency is adjusted between 2 and 200 Hz.
The procedure is entirely painless.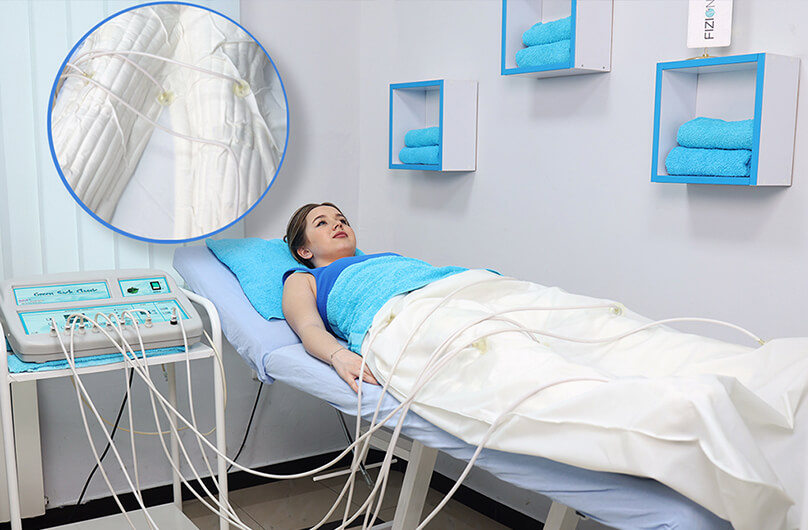 NON-INVASIVE METHOD
Therapy 6: Hypobaric Therapy
Hypobaric therapy is a treatment method that achieves its healing properties by creating low-pressure vacuum effects.
Alternating pulse changes improve circulation and capillary function.
Hypobaric therapy accelerates metabolism, regulates blood pressure, eliminates toxins, and strengthens the immune system.
After the application of this therapy, the intensity of pain due to cervical syndrome decreases, and swelling reduces.
You can read more about the application of hypobaric therapy in Fizionova Center on our blog.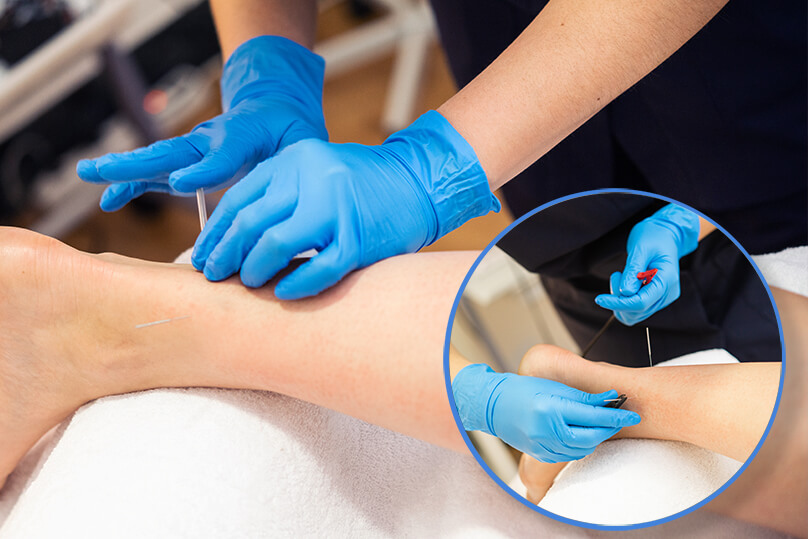 REDUCTION OF INFLAMMATORY PROCESSES
Therapy 7: IMS Intramuscular Stimulation
Intramuscular stimulation involves the application of acupuncture needles combined with electrotherapy.
The therapist uses needles to identify changes that have occurred within the neck muscles.
Additional stimulation during this therapy is facilitated by using electrostimulation.
This therapy leads to a decrease in muscle tone and an increase in the contractility of large neck muscles.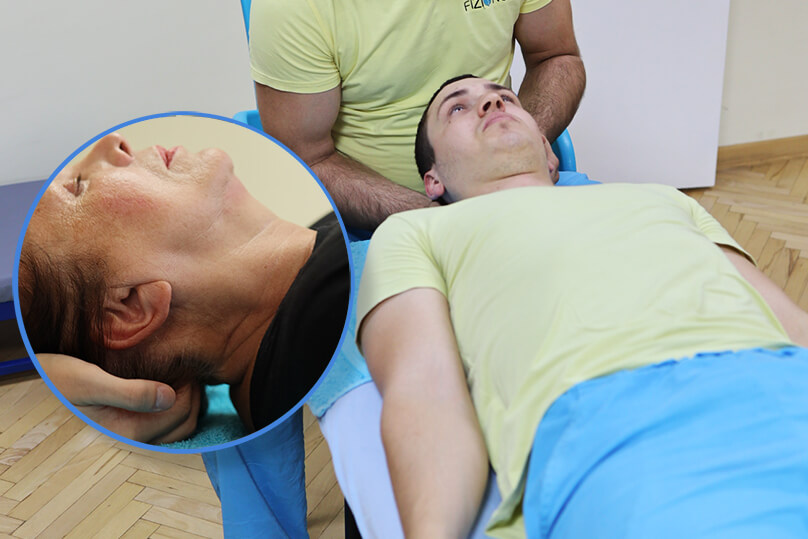 INCREASED MOBILITY AND FLEXIBILITY
Therapy 8: Myofascial Release (MFR)
MFR or myofascial release is a manual technique applied to the connective tissues of organs (fascia). Fascia provides support to organs and blood vessels.
When fascia is "healthy," it is relaxed and flexible. However, when there is an inflammatory process, injury, or change, the fascia becomes tense and immobile.
Rigidity leads to limited movement and pain. The MFR technique involves very gentle and relaxing movements.
The technique can also be applied to acute conditions because it is very pleasant and relaxing, leaving the patient feeling relieved after the procedure.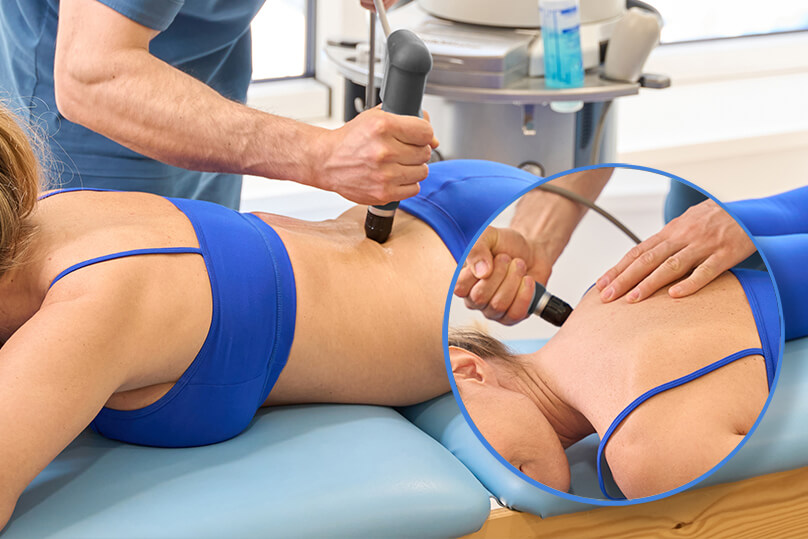 STANDARD IN THE TREATMENT OF DISC HERNIATION
Therapy 9: Radial Wave Therapy
In our spinal centre, radial wave therapy is performed using a system developed by the famous Swiss manufacturer STORZ MEDICAL.
Swiss STORZ MEDICAL sets the gold standard for radial wave therapy.
Radial therapy is a medical treatment conducted by applying high-energy sound waves to a painful area.
Its application promotes tissue regeneration and regulates circulation.
Fizionova Spinal Center maintains a high success rate
With a combination of modern technology and scientifically recognized methods, we guide you to recovery.
More than 10,000 satisfied patients are a testament to the success and quality of the services we provide at our Fizionova Center.
Fizionova insists on the use of innovative methods and devices that represent the latest technology in the field of physical medicine.
Our expert team consists of experienced professionals who, in addition to their expertise, provide support to our patients throughout the entire therapy process.
In addition to spinal syndrome, Fizionova Center offers solutions and successfully treats 79 different conditions and injuries.
Don't endure any pain; schedule your examination as soon as possible.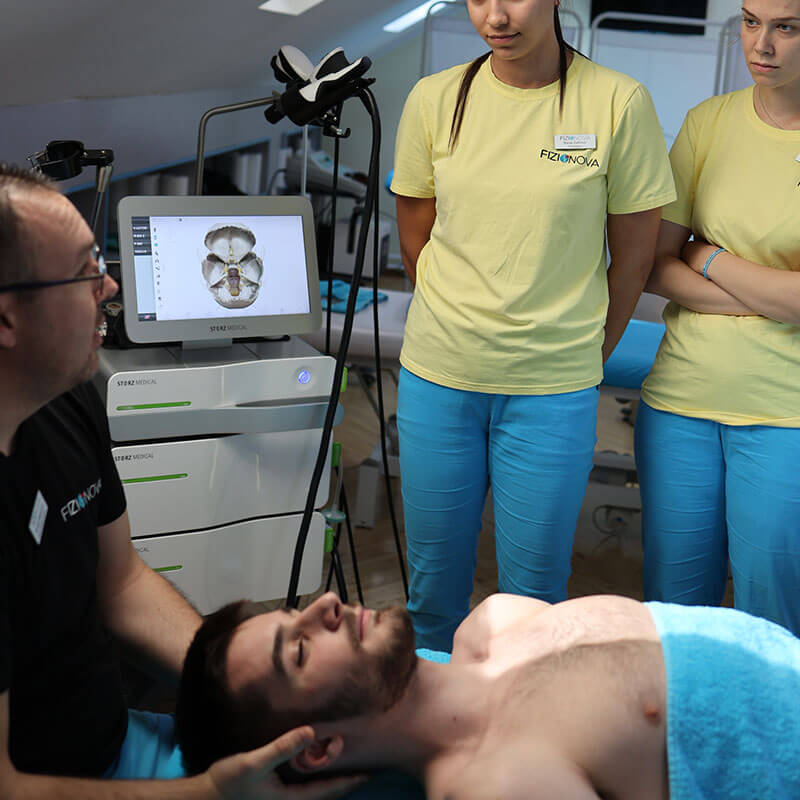 SCHEDULE A PHYSIATRIST'S EXAMINATION
Dr Jelena Kluz-Đurđević, a specialist in physical medicine
After a conversation with the patient, Dr. Jelena will conduct an examination to obtain a more comprehensive view of your health status, helping to determine whether it's an injury or a diagnosis.
The examination lasts for 30 minutes and includes:
Schedule a specialist examination by calling 011 2100 588 for the cost of 3,000 RSD.

You can also schedule an examination outside working hours or if you can't reach us by phone by filling out this online form:
Working hours
Monday - Friday

09:00 - 21:00

Saturday

09:00 - 15:00

Sunday

Closed